Participation
Together we can achieve more – Join FairMagnet and get involved!
With your membership you support the community service of FairMagnet. You can make an important contribution to improving environmental, economic and social standards in Chinas raw magnet manufacturing. By joining, you promote real partnership between raw magnet manufacturer in China and German importers. Moreover, you add an important element to your CSR-Strategy and sustainability reporting.
The protected member area lists certified raw magnet manufacturer and distributors. It also provides additional information. For individual cases, FairMagnet supports their members with applications of subsidies by creating scenarios and accompanying through the application process.
The following pictures show advantages of a FairMagnet membership.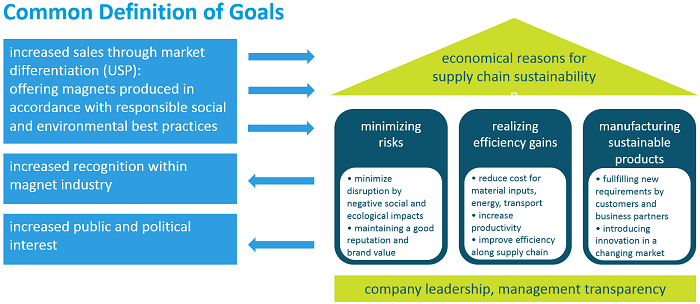 Adapted after: UN Global Compact (2012)
Entrepreneurs, decision makers, representatives from science and research, the industry and economy as well as civil-society actors and representatives of government institutions are invited to get involved. In particular German companies, using raw magnets are most welcome. Integrating additional companies provides the following advantages:
Increasing influence on suppliers
Sharing experiences and Best-Practice
Definition of common standards and processes
Enhancing credibility to stakeholders
Minimize risks
Shared use of resources and economies of scale